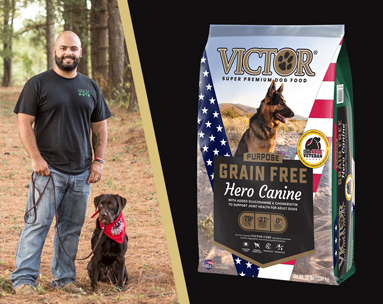 VICTOR HONORS VETERANS
Oct 16, 2019 | VICTOR HONORS VETERANS
To help drive awareness to This Able Veteran the VICTOR Hero Canine 30lb bag has a temporary new look as we honor U.S. Military Veterans. "We're excited to be featured on the bag. It raises awareness about our non-profit, but more importantly brings awareness to the Military Veterans we are serving," says Pam.
This Able Veteran pioneered programs to train PTSD service dogs specifically for each veteran's unique diagnosis and needs. In addition, they developed a Trauma Resiliency Program for both veteran and dog, which compliments the skills of the service dogs. They have also created PTSD service dog trainer academies so professional trainers can be educated and more veterans can be helped across the country.

Through their program and trainer academies they have enabled hundreds of dogs to be trained for service. To learn more about This Able Veteran visit thisableveteran.org
In addition to driving awareness of This Able Veteran on the VICTOR Packaging, we are also proud to support this great cause through sponsorship. "We are excited to contribute to such a great organization who works so hard training and matching PTSD service dogs with U.S. Military Veterans. Dogs make great companions, but with the help of This Able Veteran, these dogs are able to do so much more." – Greg Cyr, CEO of Mid America Pet Food, the proud manufacturer of VICTOR Super Premium Pet Food.
Show your support of our Military Veterans by finding one of these bags where you buy your VICTOR today.