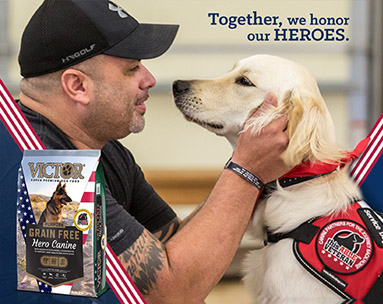 VICTOR Honors our Heroes with This Able Veteran
May 15, 2020 |
The bond we share with our loyal companions runs deep. At VICTOR, through our partnership with This Able Veteran, we've been inspired by the importance of these bonds for U.S. Military Veterans with service dogs who help support them each day.
A 501 (c)(3) non-profit organization, This Able Veteran provides specially trained service dogs for U.S. Military Veterans who have been diagnosed with PTSD. The veterans in their program receive a multi-faceted approach to coping with PTSD symptoms as they combine specially trained service dogs with a trauma resiliency program and life skills training. The service dogs receive training specifically for each veteran's unique diagnosis and needs.
In support of their important work, you'll notice our VICTOR Hero Canine 30lb bag has a temporary new look. The back of the bag highlights This Able Veteran with additional information about the organization and a photo of a veteran who has gone through their program with his dog.
"It's an honor for us at VICTOR to support the work of This Able Veteran," said Greg Cyr, CEO of Mid America Pet Food. "The role these specially trained service dogs play in the lives of the veterans they serve is crucial and it's especially inspiring to see the bond they share."
Our updated VICTOR Hero Canine bags will be available through the summer as we look to bring awareness and support to This Able Veteran and the services they offer veterans with PTSD through their dogs.
"We're excited to partner with VICTOR to help bring awareness to our cause," said Pam Largent, president of This Able Veteran. "We are thankful for the impactful donation VICTOR makes to our organization as a result of this partnership. It plays a big role in supporting us as we look to help as many U.S. Military Veterans with PTSD as we can."
To date, This Able Veteran has helped hundreds of dogs and veterans through their program and the two PTSD service dog trainer academies they have created so more professional trainers can be educated and more veterans can be helped.
You can show your support by looking for our updated Hero bag in a store near you. To learn more about the work of This Able Veteran, please check out their website, here.