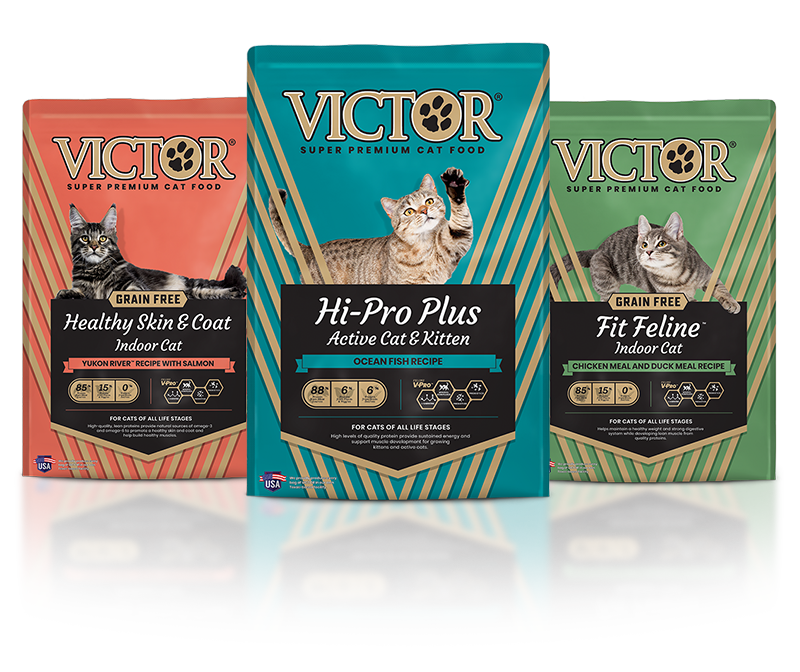 Meet our Three New Cat Kibble Formulas
Sep 15, 2021 | Greg Cyr, CEO of Mid America Pet Food
Announced today, we have expanded our super premium pet food portfolio and have introduced three new dry cat kibble formulas! These new formulas have been designed to meet the nutritional needs of indoor and outdoor cats and kittens through all life stages with special attention to energy levels, weight management, and healthy skin and coat.
Details on each formula are available below and can also be found on our Cat products page, here.
Hi-Pro Plus – Drawing inspiration from one of our top performing dog kibble formulas, Hi-Pro Plus for cats features high levels of quality protein to sustain energy and support muscle development for growing kittens and active cats. Hi-Pro Plus is an ideal formula for all life stages, including pregnant and nursing females.
Healthy Skin & Coat – A high protein formula ideal for indoor cats, Healthy Skin & Coat is a grain free recipe featuring high-quality ingredients like salmon, omega-3 and omega-6. Specially formulated to promote healthy skin and a shiny coat, this recipe will also offer digestive aid for your cat through all life stages.
Fit Feline™ – A grain free formula, Fit Feline™ helps maintain a healthy weight and strong digestive system while developing lean muscle from quality chicken and duck proteins. Natural fiber within the formula works to promote healthy digestion while omega-3 and omega-6 help nourish your cat's skin and coat.
Each dry cat formula begins with our Feline VPRO™ Blend – an exclusive mix of four proven ingredients that provide super premium nutrition to your cat while supporting a healthy coat, promoting digestive and immune system function and maintaining a healthy weight.
"Building on our commitment to providing super premium pet food at a common-sense value, the time was right to introduce new cat formulas," said Greg Cyr, CEO and president of Mid America Pet Food, manufacturer of VICTOR. "We've taken the same scientific approach to create these formulas as we do our super premium dog kibble. Every ingredient serves a nutritional purpose while delivering the high-quality nutrition pet parents expect from VICTOR."
Including our existing Mers Feline formula, VICTOR now has four dry cat formulas which include both grain free and grain inclusive choices and varying protein options.
Every VICTOR kibble formula is produced in our own Texas-based facility with a majority of ingredients coming from ranches, farms and other trusted suppliers who are within a day's drive of our East Texas plant.
Look for these formulas where VICTOR is sold!