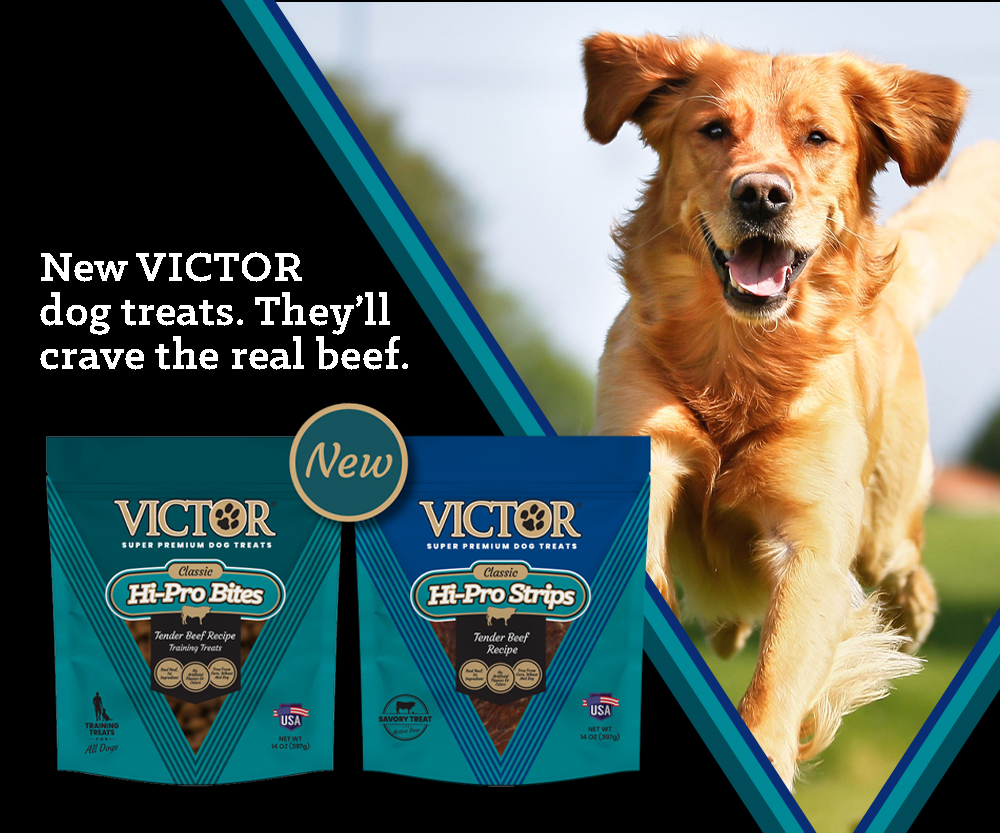 HI-PRO BITES AND HI-PRO STRIPS
Aug 01, 2022 | Greg Cyr, CEO and president of Mid America Pet Food
Offering two new ways to treat the dog who is Always By Your Side®, VICTOR is happy to officially share the newest addition to our Classic Treats line, Hi-Pro Bites and Hi-Pro Strips!
These new treats are both high protein treats featuring real beef as the first ingredient and are offered in a tender texture. Hi-Pro Bites come in smaller, bite-sized and lower calorie pieces making it an ideal training treat while Hi-Pro Strips are a savory strip treat, serving as a great option for active dogs.

Features of Hi-Pro Bites and Hi-Pro Strips include:
• Real beef as first ingredient
• High protein
• Tender & tasty
• No artificial flavors or colors
• Free from corn, soy and wheat
• Made with our VPRO® Blend of ingredients that support effective metabolism, immune system strength, digestive health and a healthy skin and coat.
"Our new treats are a natural extension of our portfolio as they are high protein, real beef treats and are a great compliment to the super premium nutrition dogs currently enjoy from their VICTOR food," said Greg Cyr, CEO and president of Mid America Pet Food, manufacturer of VICTOR. "The nutrition in these treats make you feel good about treating the dog who is Always By Your Side."
You can look for VICTOR Hi-Pro Bites and Hi-Pro Strips where VICTOR is sold! Find your closest retailer, or shop one of our online retailers, here.